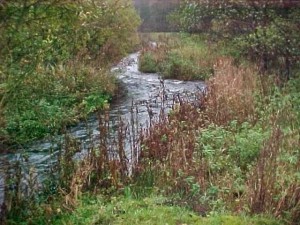 Overnight guests may buy a day pass for the fishing waters – Svinkaerbaek brook, Egtved river and some swamps – on the farm.
We have 6 fishing passes of 100 DKK/day available.
There are several good put-and-take lakes near the farm.
Spjarupgaard's Angling Waters
Brook
In Svinkaerbaek brook, which is approximately one mile from the farm, you can catch fish available in Danish streams and rivers, such as brown trout, rainbow trout, sea trout and eel.
Egtved River
Approximately 1 mile of fishing opportunity along Egtved river. The river has a special feature, a 300 meters long artificial fall, which is one of North Europe's biggest falls. It has the same type of fish as you will find in the brook.
The Swamp
There are two connecting lakes covering a total of 15,000 square kilometers. In the two lakes you will be able to catch roach, perch, bream, tench, Crucian carps, carps, trout, goats and eel.
Angling Regulations
When fishing  in brook or river, you need to stay on shore, which abuts the farm, as the other side is private property.
Littering or damaging mother nature is prohibited.
Anglers must observe the minimum requirements for each individual type of fish
We expect our guests to act responsibly and observe the regulations.
.