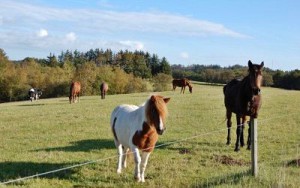 This is something new for the 2010 season.
You can bring your own horse on your vacation. We have a big grass field, which may be divided, and two horse stalls.
You may order hay and grain.
Trails and roads  are suited for wonderful horseback rides on the farm. Further, there are trails leading from Bindeballe station (at 1.5 miles distance from the farm) and all the way to Vejle city (approximately 17 miles from the farm).
Price per horse per 24 hours including hay 100 DKK.